So apparently the guys behind Gorillaz are back with...
Monkey
. I'm already looking forward to hearing
Marmoset
. Basically, Damon Albarn was like, "Blimey! A 1000-page novel about a supernatural chimp running around feudal China! Sounds like an opera to me!" (People seem to have that reaction to
almost anything
these days.) So he got Jamie Hewlett and Chinese director
Chen Shi-Zeng
to stage said opera,
pizzazzified
the tunes to be palatable to skeptical pop consumers (as well as to market the
Beijing Olympics
), and it hit #5 on the UK album charts, so well done indeed.
But slow down a second: a doorstop-sized novel about a magic monkey? You bet! One of the pillars of China's literary heritage,
Journey to the West
(西游记) is probably better known by its common English title,
Monkey
. (Good job, lads, took a lot of time to come up with that one, eh?) Finding its roots in millenium-old Buddhist & Taoist folklore, the epic narrative was anonymously published in the late 16th century and credited retroactively to poet Wu Cheng-En. It possesses a canonical importance equivalent to the
Iliad
and
Odyssey
in the West, and boasts more than a few of the same narrative features: instructional pop-ins by dead souls? Check. A kingdom unfathomably run by matriarchy? Check. Attempted seduction by grotesque beast-woman hybrids? Check, except now they're arachnids instead of predatory waterfowl.
The story itself? Well, over the course of 100 chapters, the titular simian,
Sun Wukong
, races through the three-act rise/fall/redemption arc before becoming the disciple of Buddhist pilgrim Xuanzang (a.k.a.
Tripitaka
, as he is known in most English translations). Together with the literally-nicknamed Pigsy and Sandy Priest, they travel with the sun to fetch the Theraveda Buddhist
sutras
from India, for the benefit of the Chinese people. And, as they do in folktales, they live happily ever after.
Though the 5.4 billion of us who aren't Chinese can be forgiven for our unfamiliarity with the tale, it's actually been a remarkably popular cultural reference point since its first Occidental publication in the 1942. In China, it's a perennially popular stage production and has spawned at least a dozen films,
the most recent
of which starred Jet Li and Jackie Chan (a Hollywood blockbuster is currently in preproduction, with Will Smith rumoured to play Tripitaka). Proto-ambient prog-rockers
Jade Warrior
peppered their albums with references to the story, including song titles like "Water-Curtain Cave" and "The Mountain of Flowers and Fruit". British and Japanese men pushing 40 probably recall the surprise TV hit of the late-'70s,
Monkey Magic
. Even
otaku
mainstay
Dragonball
was conceived as a liberal adaptation, though that pretense was swiftly defenestrated.
So am I recommending
Journey to the West
as essential to your post-globalisation edification, or as some Rosetta Stone for primate-oriented global junk-culture? Nah. Bottom-line,
Journey to the West
is handicapped by that same Achilles' heel as
all those other big, important books
written before paper replaced papyrus:
bad writing
.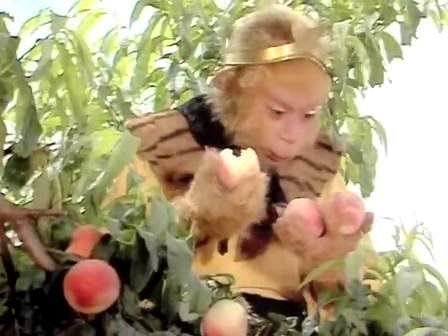 The narrative sputters with the start-stop-stall rhythm of someone making it all up as they go along. There are innumerable passages fattened with pointless kipple, to the effect of:
And Xuanzang knelt by his mother, his hands folded piously within the folds of his robe. "But mother," he said, as he knelt, "how did you come to recognize me as a man for you have not seen me since I was but a baby?"

"My son," said the mother to her son who now knelt by her side, "I despaired that I would not recognize you as a man for not having seen you since you were but a baby. In my despair I decided that I must mark you, so as to recognize you as a man, and thus bit off the last knuckle of your baby toe so that when I saw you as a man I would recognize you by the absence of the last knuckle on your baby toe."

And mother and son embraced, and there was much rejoicing.
This, of course, after a good half-page was already spent in chapter 8 describing the foresight of such knuckle-severing as it happened. Yeesh.
And then, when it comes to the fantastic blood-fountain battle scenes and magical invocations, they race by with less detail than an AP report of some tribal melee consigned to a sidebar on page 14:
And Monkey and Erlang Shen clashed with a ferocity that cannot possibly be imagined, let alone described, until Erlang Shen was exhausted and Monkey returned victorious to the Mountain of Flowers and Fruit.

Then his monkey minions threw a feast, and there was much rejoicing.
Boo.
Disappointing
. (Dept. of CYA: lest an overzealous Chinese literature major accuse me of mangling the text, the above passages are not quoted from the story; it's called parody, people.)
As a final illustration of how lopsided the story is, please note that chapters 13-99 document the quintet's travels from China to Vulture Peak in India to obtain the sutras, and chapter 100 - the final chapter - describes not only the whole journey
back
, but also the protagonists' divine recompense in (I shit you not) various bureaucratic posts in Heaven.
A grimly comic footnote about
Journey to the West
's enduring popularity in China is that Sun Wukong/Monkey was frequently
cited by Mao Zedong as a role model
for "his fearlessness in thinking, doing work, striving for the objective and extricating China from poverty." Right. A workshy, megalomaniacal chimp prone to hissy fits, who declared war on Heaven for being fired from his post as holy horse-groom for incompetence; who cut such a swath across the celestial palace that Buddha himself imprisoned him under a mountain for five centuries; who only submitted to Tripitaka after being strapped to some alchemical electroshock torture-halo -
a good role model
. That's like Lenin citing Gogol's madman diarist as an exemplary Bolshevik.
And you already thought Mao was fucked in the head, eh?
So why did I slog through this absurd & seemingly slap-dash epic? Well, aside from a lot of enjoyable picaresque, the friend who lent me the book pitched it as "the story of a flying warrior-monkey whose divine title is
Great Sage - Equal of Heaven
." Not a hard sell when it's presented as such. Of course, whenever I started skimming pages or furrowing my brow at particularly awkward passages, I kept the issue of translation in mind. Perhaps I was handed the
Ford Edsel
of English editions, and doubtlessly the cadence gets dismembered when removed from its mother tongue.
That being said, if
you've
got the time to learn classical Chinese and read a hundred-chapter
Lord of the Sutras
, get back to me about how that worked out.
Retroreferential Postscript:
You know how "Paper Planes" by M.I.A. struck me as the anthem not of third-world animus but of illiquid asset robber barons?
Called it
. Hoodies with Saturday night specials aren't the only ones who use terror to ply people from their wallets.
The truly maddening thing about the bailout is how
close
we are to flipping the script in a sweeping way: if only Congress & the Senate looked ex-Goldman Sachs man Paulson in the eye and said, "Yeah, we've got your $700 billion, but this ain't a bailout, this is a
buyout
. They had their chance and blew it big-time, so no, they can't have their company back once we've resurrected it." But no, instead the gov't is acting like lax parents whose shithead sixteen-year-old just totaled the minivan; shrugging that "kids will be kids," they hand the budding sociopath the AmEx card to rent a car so he can still get around.