Well, it's Hallowe'en weekend. If you're a foreigner in Tokyo, this means
partying hard
on the Yamanote train with a bunch of other white people, though in recent years these impromptu costumed hullabaloos have drawn fire from not only embarrassed foreigners but
an increasingly strident hard-right
. Personally, I'm not particularly bothered. The Yamanote parties are hardly a utopian
T.A.Z.
and combating xenophobia doesn't begin by dressing up like Borat and acting like a douche; yet it hardly bears complaining that the train transforms into a mobile drunk tank on October 31 -
as opposed to any other night
.
Of course, people everywhere concoct all manner of fanciful excuse for the explicit purpose of playing the fool in public. Such saturnalia are exhaust valves for the populace's pent-up frustration & compounded stress, which otherwise might be channeled into some kind of radical political expression - and we certainly can't have that! So when Japanese wag their fingers at an American holiday that is little more than
culturally-sanctioned juvenile terrorism
, lest they forget they spend summertime
getting drunk & playing with explosives
.
Really, though, to be content with such intermittent tomfoolery is missing the big picture. Just become a musician. Then you can act like a complete asshole 'round the clock and
get paid for it!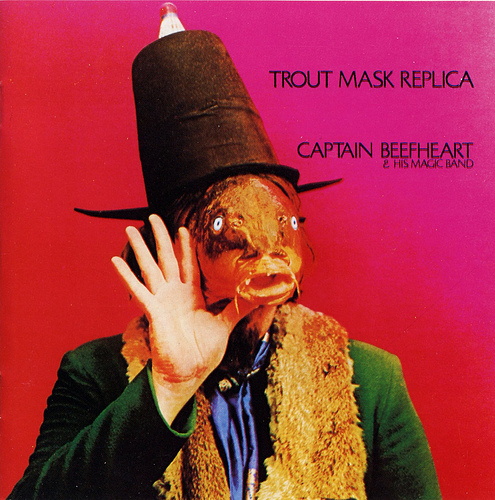 Then again, musicians are often as discontent to be themselves as anyone else. (Even moreso
in
some
instances
.) This is why the musical masquerade of cover songs is impossible to resist. Yes indeed, it makes good P.R. to associate yourself with an
established act
, not to mention trumpet your own
impeccable taste
. But no one's ever kicked out a Jimi Hendrix or
Stooges
cover who didn't
want to be
Jimi or Iggy (who also wanted little more than to be their
respective
heroes
). Hell, some bands make entire careers out of hollow impersonations of their idols. As an audience, we owe thanks to those talented few who only unveil their influences occasionally & purposefully.
So instead of the usual ghosts 'n' ghoulies Hallowe'en mix (which you can
grab here
if you really want), here's an amusing selection of musicians playing at being other people. Click on the mix title to download.
In a Stupid-Ass Way
1. Scott Walker - "Jackie"
2. Tricky - "Lyrics of Fury"
3. Teddy and His Patches - "Suzy Creamcheese"
4. The Crazy World of Arthur Brown - "I Put a Spell On You"
5. The Fall - "Mr. Pharmacist"
6. The Toreno Brass - "Eleanor Rigby"
7. Sonic Youth - "My New House"
8. The Wooden Glass feat. Billy Wooten - "In the Rain"
9. Melvins - "Going Blind"
10. Dick Hyman - "Green Onions"
11. Shirley Bassey - "Light My Fire"
12. The Chico Magnetic Band - "Crosstown Traffic"
13. La Tia Leonor Y Sus Sobrinos - "Marcha a la Turca"
14. Alex Chilton - "Jumpin' Jack Flash"
15. Nick Cave & the Bad Seeds - "Wanted Man"
16. Pavement - "The Classical"
17. Faith No More - "Easy"
18. Martin Denny - "Midnight Cowboy"