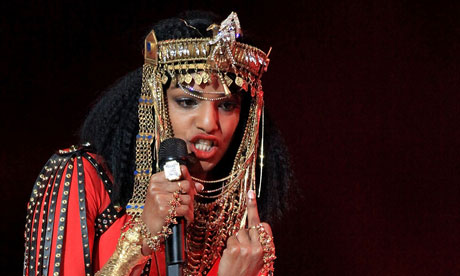 Am I obliged to comment on
M.I.A.'s "finger malfunction"
because my most popular post ever - by a factor of over
four times
its closest competitor - is my
2010 takedown
of her pop-provocateur persona? Because, like, I've got shit to do besides rehash two-year-old quarrels of stage-managed mischief.
But fine, let's get into it, if only because it'll be easy. Turning first to the finger itself: really? Really! Have we backslid into
such
petty puritanism that flipping the bird is cause for a proper conniption fit, as opposed to the single most
overused
&
hackneyed
gesture of
juvenile
waggery
that packs all the
symbolic punch
of overcooked rice noodles? She doesn't even do it well! Look at her hunched shoulders, look at how tightly drawn in her arms are: a meek & defensive posture, like a toddler who's committed to misbehave deliberately just to piss off the parents. Pathetic.
This
is how you give someone the finger:
Boom! Ain't no equivocatin' when you're telling someone to fuck off.
Now, with regard to M.I.A. as riotous pop shit-kicker, a lame, recycled flip of the middle finger is merely the latest in her continued reliance upon lame, recycled gestures. The chorus of her latest single is a monotone bleat of "Live fast, die young" and it doesn't get more threadbare & depleted than
that
hoary countercultural
trope
. Hopefully, M.I.A. has accepted (as most of us have) that she's utterly inept at articulating a political position so we needn't reexamine precisely
why her identity-derived political aesthetic is bullshit
. Of course, she still covets the currency of being branded a "political artist," but she can shoot every one of her music videos
within safe distance of a "conflict region"
from now on, and everyone will understand it's empty & opportunistic provocation, like
Madonna fornicating with Black Jesus and burning crosses
.
Which returns us to
the
stock defense of M.I.A.: the provocation itself was the point. As I explained before, I'd have no problem with such an excuse - heck, I might even become a fan - if M.I.A. was able to transgress the
form
or
process
of "being a pop star," but she isn't. (In fact, no one has been - not even Lady Gaga, I'd argue - since Kurt Cobain.) Because M.I.A.'s transgressions are limited to the realm of content, she is - at the risk of repeating myself - doomed to one of several failures:
The provocation fails to provoke. Congrats, you're boring.
The provocation succeeds, at the expense of banalising the provocative.
The provocation succeeds to the point of returning the threat to the provocateur, who stands by the ever-present escape hatch of "not meaning it."
And if anything is symptomatic of art's sickly & moribund state in the post-modern era, it's an absence of meaning.